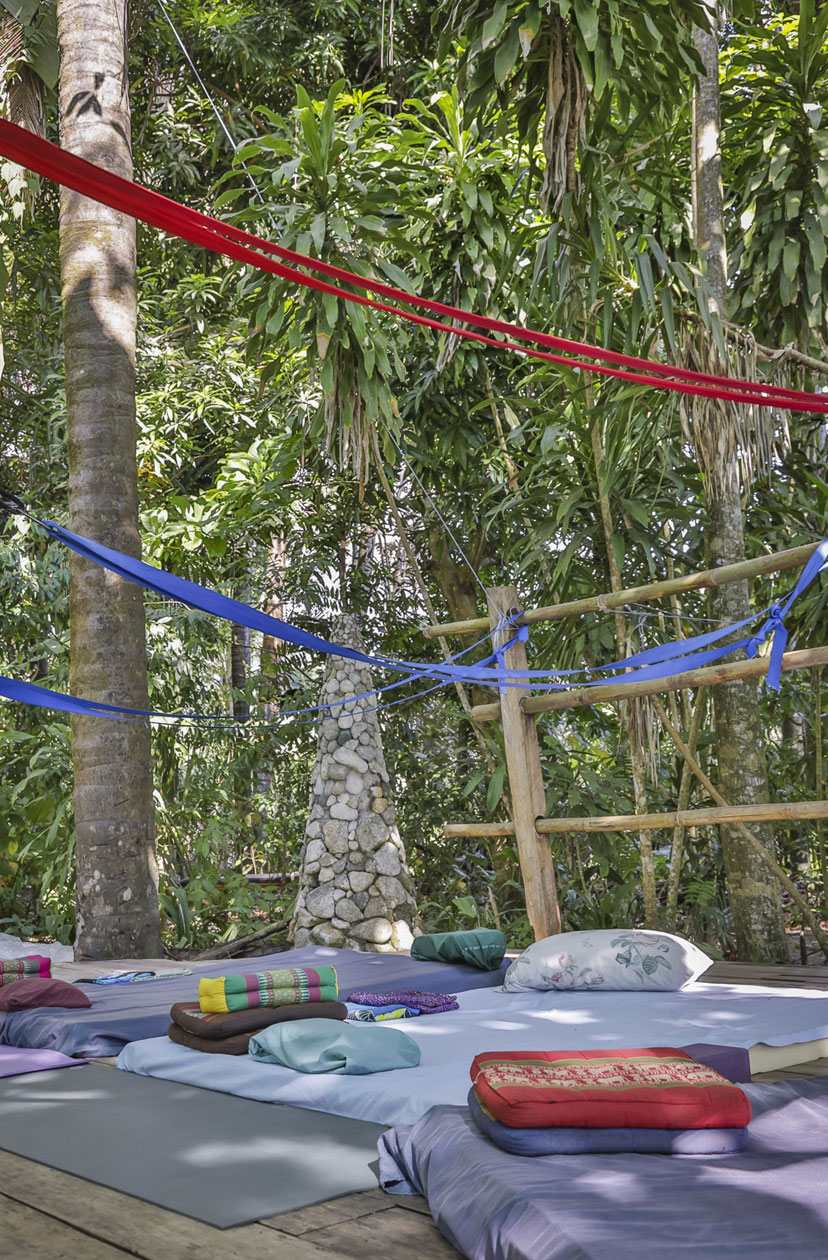 Thai Abdominal Massage & Chi Nei Tsang (8 Days)

| | |
| --- | --- |
| | January 18, 2019 |
| | Costa Rica |
| | Tumbo de las Olas |
| | Google Map |
Abdominal Massage Training & Discovery
A week of exploring the core of our bodies
with Christopher Ray & Kate Lewandowski
January 18th-26th, 2019
Osa Peninsula, Costa Rica
The power of abdominal massage
The majority of physical and emotional imbalances and congestion are stored in the abdomen, yet ironically, abdominal massage has become virtually a lost art and science. All energy lines pass through the abdomen, and this area becomes a 'dumping ground' for stagnant energy. This is perhaps one of the most profound forms of bodywork. In addition to addressing physical ailments associated with the internal organs, this work is proven to have incredible healing effects throughout the physical, emotional and spiritual bodies.
Training includes
42 ce-hour (ncbtmb); 30 hour (THAI) training
Abdominal massage techniques and theory from Thai, Taoist, and western perspectives
Abdominal anatomy, physiology, & pathology
Sen & meridian lines in the abdomen
Breath assessment and coaching
Guided Qi gong, yoga, breathing, and meditation
Techniques to open your own body and facilitate comfort and ease when doing bodywork
The art of healing and working with energy in the body
Free time to relax in a hammock, swim, surf, meander through the jungle
Explore the work in a beautiful, nurturing environment
The forests and waters of Costa Rica's Osa Peninsula are vibrant and teeming with life. We think of it as hanging out in an oxygen bar. Our bodies respond to the warmth and oxygen by softening and opening. The food is fresh and nourishing, the ocean is deeply cleansing, and the nurturing embrace of Mother earth is potent. This is an ideal environment for delving into the layers of physical and emotional congestion in our bellies.
Don't be surprised if this week becomes life-changing. Our abdomens are the physical and energetic cores of our being and hold a universe of power, strength, memories, passion, and fear. Yes, you will go home with the knowledge of how to massage someone's abdomen. More importantly however, we anticipate that you will discover yourself on a new level. You will be supported through this process with the utmost patience, presence, and compassion.
Two of your guides for the week
Christopher Ray is approved by the National Certification Board for Therapeutic Massage & Bodywork (NCBTMB) as a continuing education Approved Provider. (#451538-11) and is registered by Thai Healing Alliance International (THAI) as a Thai Therapist and Instructor.
Chris has been exploring massage & bodywork for the past 22 years, focusing on Traditional Therapeutic Thai Massage for the past 15. He has worked with many teachers in Thailand, and has developed a unique, masterful style of bodywork which is deeply transformative. Christopher's patient, thorough style of 3 to 5-hour sessions has allowed him to explore deeply into how congestion and energy move and function in the body. Chris began teaching ten years ago, sharing his detailed sense of body and energy mechanics, as well as his clear, heart-based approach to life. He is passionate about assisting people in opening up their bodies, remembering their true potential, and embracing life with authenticity, love and joy.
Kate Lewandowski is a registered yoga teacher, enthusiastic dancer and teacher, landscaper, Qi Kung practitioner, bodyworker, ex-veterinarian, and cosmic traveler. She thrives on balancing and supporting the highest potential of all those around her. She is also the nuts-n-bolts organizer of this team who holds the container for the magic to unfold. Together, their skills balance and synergize to create exuberant classes that provide life changing information in a fun, comprehendible way.
The how-what-where details
The training cost of $2350 – $2500 includes:
8 nights lodging at the beautiful eco lodge, Tumbo de las Olas. (Sound of the waves) Please see Tumbo's website for photos and info about this unique place.
3 tasty, nourishing meals and drinks per day. (beginning with dinner on the 18th and ending with breakfast on the 26th) Since we are focusing on the belly for the week, we will create a menu that supports cleansing: Lots of juices, raw and cooked fruits & vegetables, nuts, coconut, seaveggies, whole grains, and fresh fish. We will avoid dairy and meat, as these tend to slow digestion and make abdominal massage more challenging.
Transportation from Puerto Jimenez to Tumbo. This is a ~45 minute taxi ride down a scenic, dirt road.
Tuition for 7 full days of instruction and guidance. You benefit from the fact that you have two instructors who are both over-achievers. Christopher and Kate want you to have an amazing experience and go home with an abundance of good info. They don't hold back. Class size is capped at 14 people to ensure quality. We are happy to give you contact info for previous participants if you would like to hear their perspective.
A 4-hour guided hike up a river to absorb waterfall and jungle juju.
A thorough, color manual to take home with you.
What is not included:
Transportation to San Jose, Costa Rica
Transportation from San Jose to Puerto Jimenez. This cost varies from $25 (all- day bus ride) to $120 (one-way, one-hour flight).
Pricing
Cost is $2350 (early-bird register by Oct. 1st) or $2500.
Returning students of this same course receive a $500 discount.
If you would like to bring a friend or loved one with you who will not be attending the training, their cost will be $1300. There are endless activities for them to enjoy while you are exploring bodywork.
A $500 NON-REFUNDABLE (after Nov. 1st) deposit is required to hold your space. Please secure personal travel insurance if you have any concerns.
Payments can be made via PayPal (see link below), personal check, or money order. You may set up a payment plan or pay all at once, but full payment is required by December 31st, 2018.
Click button below to submit your deposit:
We look forward to assisting you in opening doors of opportunity and discovery, and sharing one of our favorite places on the earth with you. Lots of love to you and Mama Earth & Waters,
— Christopher & Kate